Finland, the Netherlands, Denmark and Estonia seem to be the countries in Europe with the highest media literacy of their citizens. The Balkan countries are on the opposite side of the ranking. This is the conclusion of a comparative analysis on predictors of media literacy and the resilience potential of the countries in Europe to address the "post-truth" phenomena, carried out by the Open Society Institute – Sofia.
The analysis offers a model for measuring media literacy in Europe based on the assumption that freer media, better education levels and higher trust among citizens are predictors of higher levels of media literacy. Several indicators were used in the model, including for measuring media freedom (Freedom House and Reporters without Borders), quality of educations (PISA), trust in people (Eurostat, ESQL) as well as e-participation (UN).
The cluster analysis of the scores divides the 33 countries included in the survey into 5 groups with similar characteristics. There are clearly visible geographic patterns. The best performers are the North and Northwestern countries. The countries of Southeastern Europe, including Bulgaria, Romania, Greece and Turkey, are in the last two clusters.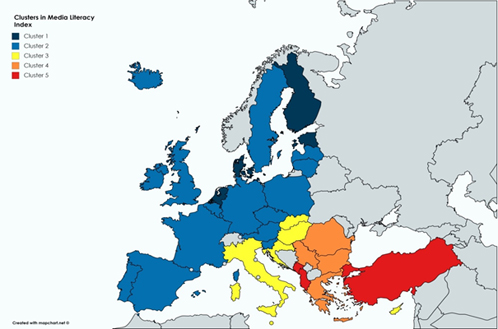 The countries at the top of the media literacy ranking enjoy free media, high quality education and high level of trust among citizens. For example, Finland which has the highest scores in the current model, has been considered by experts among the best equipped countries to address false news campaigns due to its excellent public education system and critical thinking skills of its citizens.
At the same time, the countries at the bottom of the ranking are characterized by low media freedom, lower education levels and high distrust among citizens. "These are predictors of lower media literacy and higher level of susceptibility of these societies to the "post-truth" phenomenon – post-truth politics, alternative facts and prevalent conspiracy theories for the functioning of the world" said Marin Lessenski, author of the study and director of the European Policies Program of OSI – Sofia. According to him, establishing new regulations, although necessary in some cases, will not be enough to address the post-truth phenomenon. A future-proof solution would be investing in the media literacy of the citizens for creating critical reading and analysis skills.
The full text of the policy brief Can this be true? Predictors of media literacy and resilience to the post-truth phenomenon in Europe.